CP is an Aboriginally owned, full-service facilities expert, employing a team of nearly 100 skilled-trades professionals and support staff. Our success is built on long-term relationships and values of integrity, team focus, safety, and respect.
CP was established in 1998 by Vern Janvier, a member of the Chipewyan Prairie First Nation. In its early days, many of the company's projects were based in local gas fields, but as the gas fields were shut in Vern diversified.
Over the years, CP has evolved into a full-service facilities expert. To complement our specialization, we added a transportation
division and aligned with industry-leading experts like Golden Arrow and Letcar Mechanical to increase capacity for larger projects.
With more than 20 years of experience adapting to the changing needs of industry, the company has built an honourable reputation and a solid foundation for growth.

The new brand
Launched December 2017 in celebration of CP's 20th anniversary, the new brand reflects our progression as a company, our innovation, and our drive for continuous improvement, while maintaining the company's heritage and Indigenous roots.
Previous logo: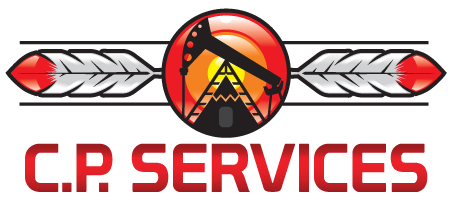 Committed to safety
Our approach to safety is guided by the spirit of family, care for all, respect for the environment, and professionalism. These principles are deeply ingrained in our culture from the top down.

Strong leadership
Vern is a passionate leader who is dedicated to his team and community. As the current Chief of the Chipewyan Prairie First Nation, he strongly values education and attributes it to how far he has come today. In his early career, Vern worked as a gas plant operator before starting CP. In his spare time, he has a need for speed, racing anything that will race: mud trucks, sleds, you name it.
Dave is the northern star that guides CP Services — we should call him Polaris! With a background in commercial development and a love of the outdoors, Dave was destined for Northern Alberta where his business sense has found a welcome home. Under his guidance, CP has become an industry leader that is widely acknowledged for operational excellence, unparalleled service and safety, and as an employer of choice.
Roy's love of fast cars is fitting because he has been following the oil and gas industry all over northern Canada for almost 30 years. As a general manager with a level of experience and operational insight that few can match, he has seen the evolution of the industry and pretty much everything the north will provide. Roy is known for a direct and practical approach and strong problem-solving and logistical skills that are second to none.